For the ultimate safari experience right here in the UK, book a lodge with views of our rhinos.
Fancy a safari experience without the long haul flights? Our rhino-themed lodges offer the taste of a safari holiday without the hassle. Stay in a luxury lodge in the heart of rural Pembrokeshire right next door to a world class zoo and overlooking Kifaru Reserve, our critically endangered Eastern black rhino enclosure. Of course we've sprinkled these lodges with a little Folly Farm magic, so expect rhino details in the interior decor and photos of our very own crash of rhinos – Manyara, Nkosi, Dakima and Glyndwr, the first rhino to be born in Wales.
Kifaru View Lodge
Our Kifaru View Lodge directly overlooks our black rhino enclosure, offering guests the chance to observe these majestic animals from the comfort of your private outdoor space. The lodge has three bedrooms and sleeps up to six people. The master bedroom offers guests a king size bed, walk-in wardrobe and en-suite shower room, with access to the outdoor decked area. The second and third bedrooms offer two full-size single beds for the little ones or even the grandparents. The family bathroom includes a full-size bath with overhead shower.  An open plan living area creates an inviting, airy space whilst floor to ceiling windows provide plenty of light. A fully equipped modern kitchen with shaker style units and breakfast bar, along with dining table with six chairs completes the communal space. Walk from the lounge through large bi-fold doors onto your outdoor decking space complete with a private, sunken hot tub – perfect for relaxing after a busy day exploring Folly Farm or visiting Pembrokeshire's spectacular beaches and countryside.
Kifaru Lodge
Our standard Kifaru Lodge offers all the same features but is located on a higher level behind our Kifaru View Lodge. You'll still have the chance to glimpse our rhinos.
Why Kifaru?
Our rhino-themed lodges are named Kifaru because it's Swahili for rhino. It's pronounced Ki-far-ooh!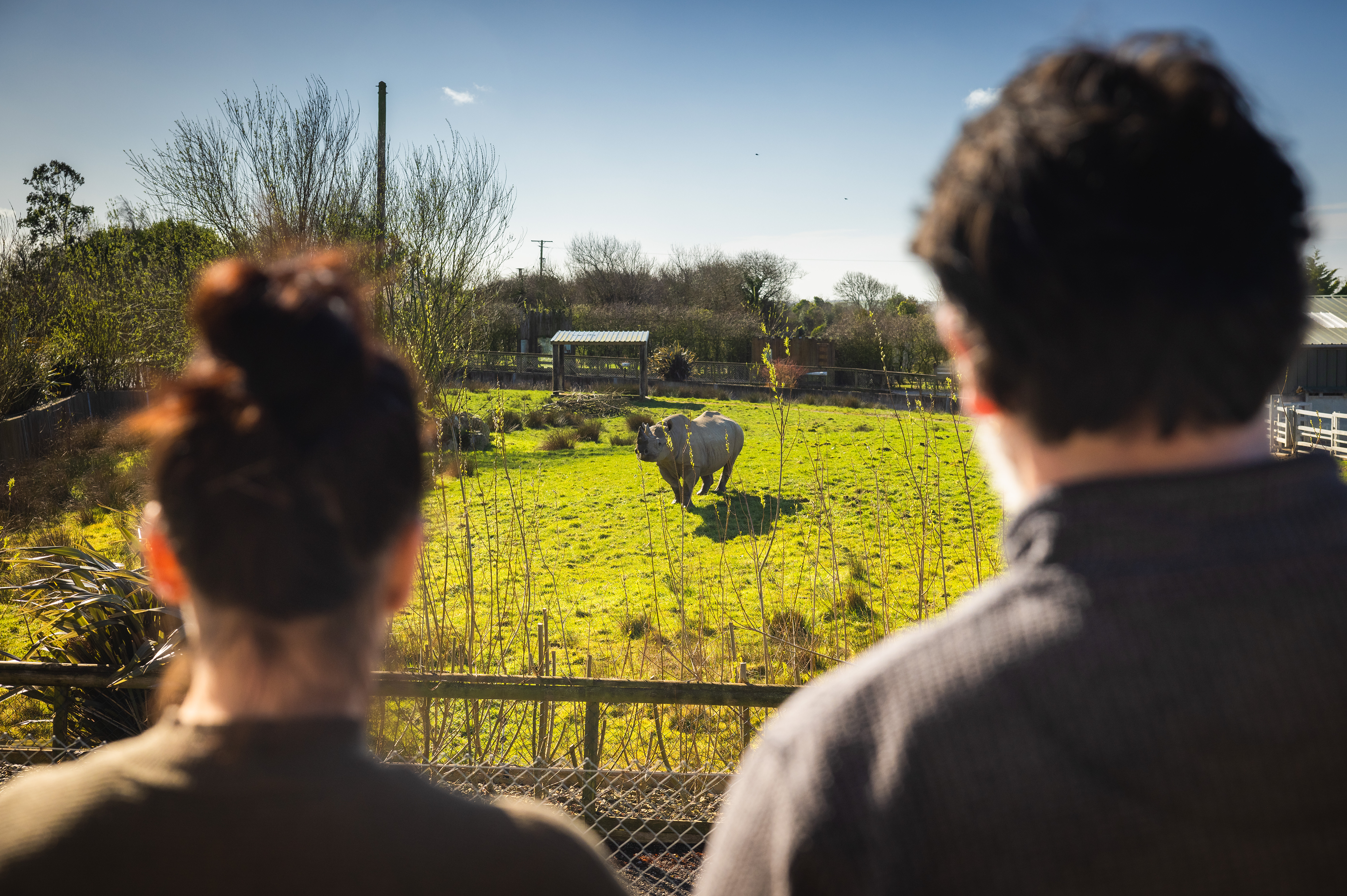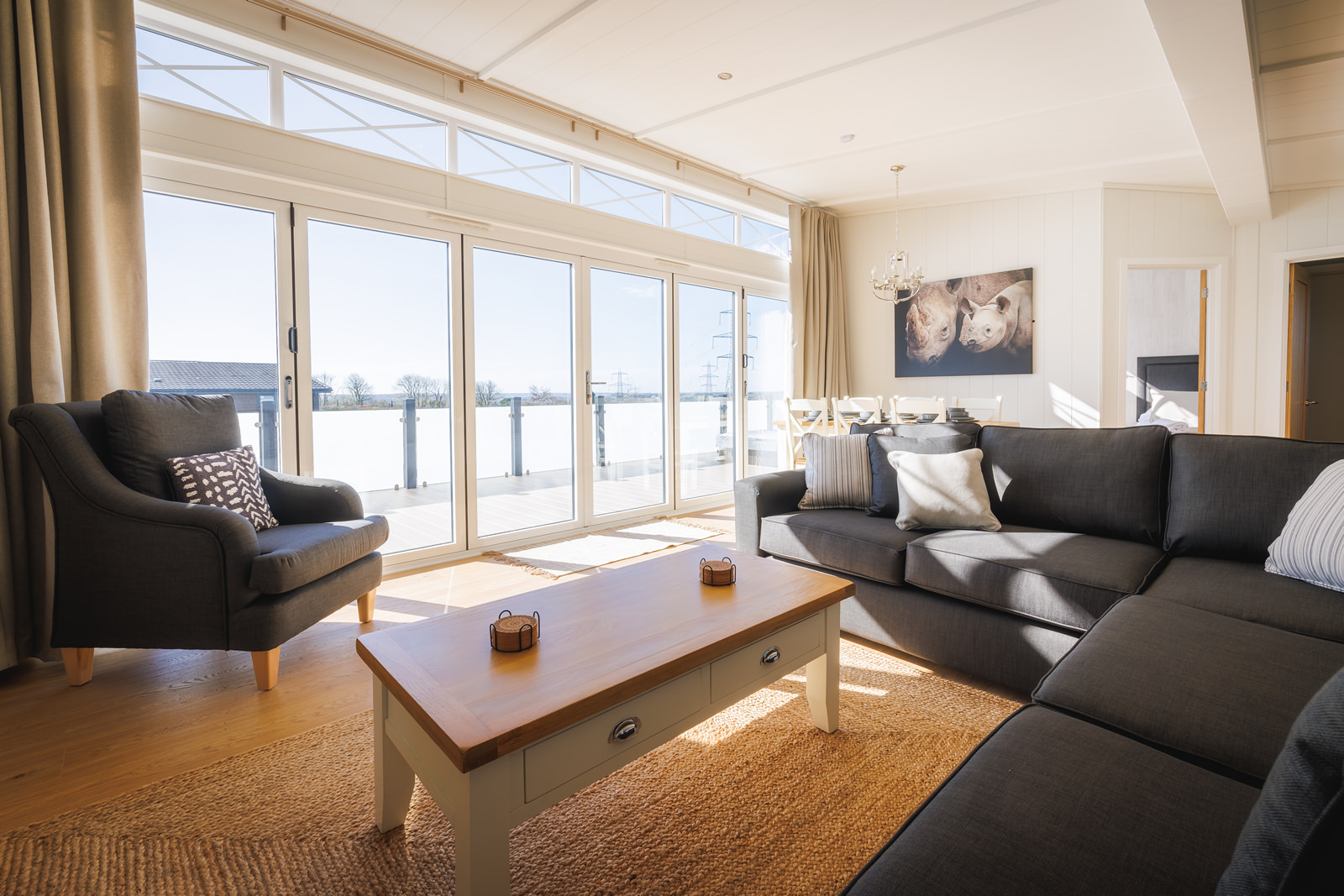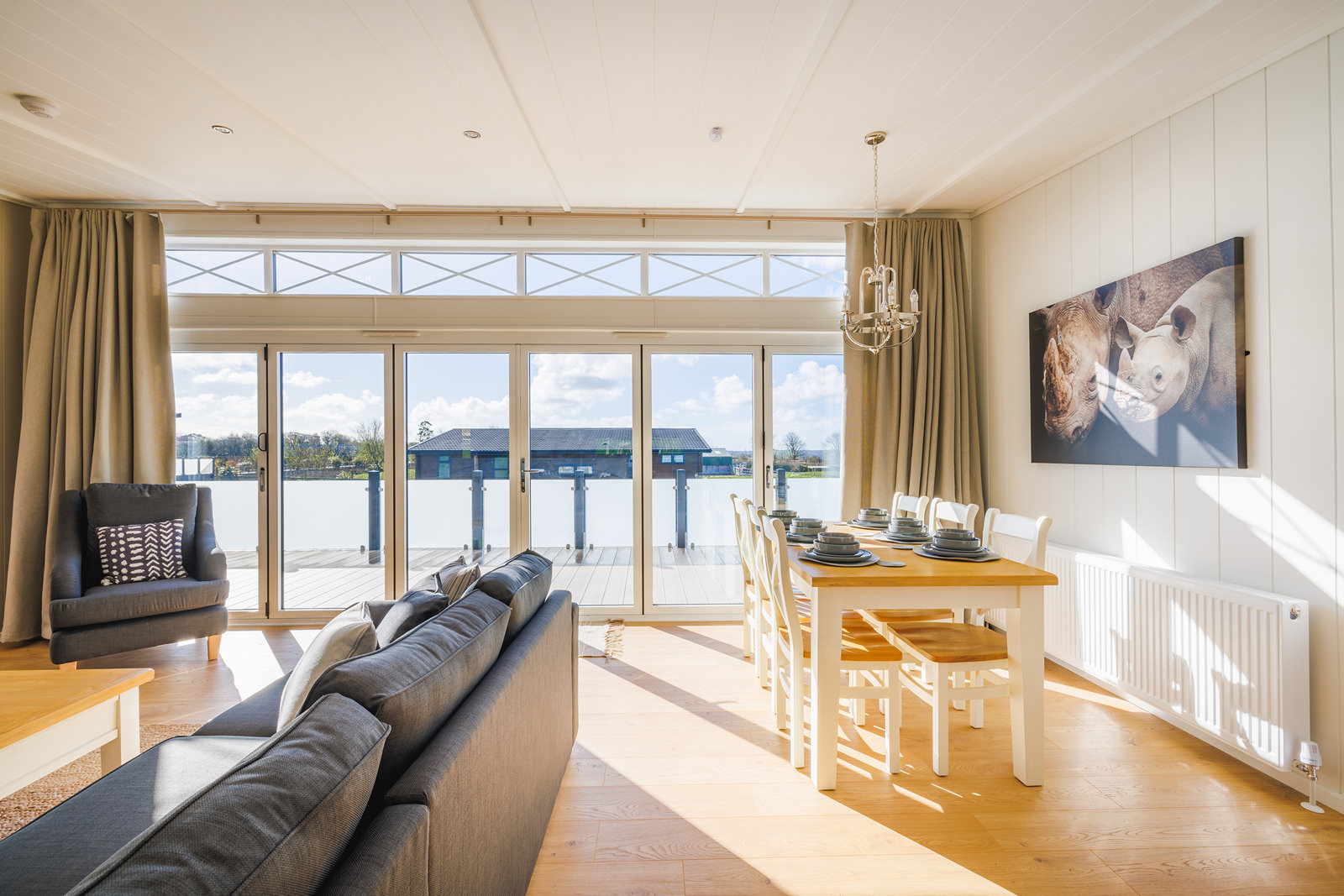 Q: When can I book your lodges?
A: Booking is now open for our Kifaru Lodges.
Q: How do I book your lodges?
A: Booking is through Hoseasons, our selected partner. Hoseasons has a wealth of experience in pricing and marketing lodge accommodation across the UK. We're part of the Evermore Lodge Holiday Collection.
Q: When can I arrive?
A: Check-in days are Mondays and Fridays. Check-in time is 4pm and we please ask that you check out of your lodge by 10am on the day of departure. We have a late checkout charge of £50 so please do make sure you vacate your lodge on time to allow our cleaners in to prepare the lodge for our next guests. We're sorry, we do not allow early check-ins but with free access to our attraction on your arrival day this isn't a problem as you can use the toilets, say hi to our animals and grab a coffee whilst you wait. Just park up in our attraction car park and our admission staff can you look up on our booking system to give you access to the attraction, just tell them you're staying with us and give your name. Then when 4pm rolls around you can drive up to our arrivals building and check in!
Q: Is there a minimum stay?
A: Yes. There's a minimum stay of two nights in our luxury lodges. Our lodges can be booked from Friday to Sunday (two nights, with the added benefit of a late checkout on the Friday!), Friday to Monday (three nights), Monday to Friday (four nights), Monday to Monday or Friday to Friday (seven nights).
Q: Do all your lodges have hot tubs?
A: All our luxury lodges have a private hot tub sunk into the decked outdoor space, with a frosted glass balcony. They're suitable for guests over the age of 8 and children must be supervised at all times. We provide one set of white bathroom towels for your lodge for use for the week so you might want to bring beach/swim towels for use with the hot tub. All our lodges have washing machines and a clothes drier and our laundry in the facilities building has a charged for tumbled drier. Our hot tubs are open all year round but we may take away the outdoor furniture during the colder months/at windy times.
Q: Can I bring my dog?
A: Most of our luxury lodges are pet-free but we do have a dedicated pet friendly lodge.
Q: Can I bring my bike?
A: Sure thing we're bike friendly!
Q: Are your lodges suitable for disabled visitors?
A: We have a two bedroom lodge with access features suitable for some wheelchair users or guests with reduced mobility. It won't meet everyone's specific needs so please click on the link to read more and see photos.
Q: Can I park near my accommodation?
A: Yes you can! There's no need to hire a buggy on our holiday park as we've provided parking spaces by your accommodation. Some types of accommodation will even accommodate more than one vehicle but if you need more space then you can always park additional vehicles in our attraction car park which is a short walk away, just ask for a rear view mirror hanger so we know it's yours.
Q: How close are the lodges to Folly Farm?
A: They're just a car park away! Our lodges are located on our Holiday Park which is accessed through our main attraction car park. It's a ten minute walk to our attraction entrance with little legs in tow!
Q: Is entry to Folly Farm included?
A: Of course! When you stay in our luxury lodges unlimited entry to our attraction is included as an extra for all guests. This includes your arrival and departure days. Please note our attraction is open daily from our local February half term until our local October half term and then we're only open at weekends so please check the attraction opening times if visiting Folly Farm is an important part of your visit.
Q: Do you accept group bookings?
A: Our holiday park is designed with families in mind. We're sorry but we do not accept group bookings from hen and stag parties, nor do we accept single sex bookings or large group bookings for family celebrations.
Q: Do you have EV charging points?
A: Yes, we have 12 EV charging points located in our carpark on the left-hand side before you enter our Holiday Park. These charting points are to be used through the Pod Point app, and cost 45p per kwh. We ask all users respect EV charging etiquette when using these charging points.
Kifaru Lodge Reviews
"Amazing views of the rhinos! Lovely, clean accommodation. Great facilities on site - Little play area & shop, local food trucks. Loved having access to the park, used the soft play on a daily basis. Warden's on site, felt very safe and belongings secure. Staff friendly and approachable."
N Webb, Surrey, 11 August 2023
"Amazing! Could not fault anything, everyone we spoke to was really friendly and helpful, the lodge was perfect, huge, well equipped and spotless. We spent hours in the zoo, farm and fair, (loved the half price wristbands!). Was sad to go home, but had a wonderful week and would recommend 100%."
Jules Giles, Staffordshire, 04 August 2023
"Fabulous accommodation. The lodge had absolutely everything we needed and more. Hot tub was a perfect way to relax after spending a memorable day at Folly farm. The welcome pack was a very pleasant surprise containing superb quality Welsh items watching the rhinos from our decking - Amazing 5*."
Jennie Griffiths, Langstone, 15 May 2023