Roll up, roll up to Pembrokeshire's Glamping Provider of the Year!
Our quirky Showman's Wagons offer something that little bit different for your holiday accommodation. Children will love staying in our fairground styled caravans. What child – or indeed adult – wouldn't? Plus
Glamping Gold Award
We've been awarded a Quality Assured Gold Award from Visit Wales for our Showman's Wagons, recognising our commitment to delivering a first class experience and going over and above our visitors' expectations.
All the fun of the fair
Our Showman's Wagons are themed around the different rides we have in our vintage fairground at our award-winning family attraction right next door. From the Carousel to the Waltzer to the Twist, these fun caravans add a little bit of magic to your stay.
Unlimited free entry to Folly Farm is included for the duration of your visit so you'll be able to get your funfair fix. You can buy your wristbands in advance!
Showman's Wagons
Each wagon has two bedrooms and sleeps two adults and two young children. Whilst bigger than a Shepherd's Hut, the wagons are cosy camping so we wouldn't recommend booking them for children over the age of around ten and shorter stays – three and four nights – are the most popular. An open plan kitchen and dining area provides a place to share meals as a family but relaxing is probably more comfortable in the bedrooms. A double room, single room with two small bunk beds and a family shower room completes the layout. It's best to view our Showman's Wagons as somewhere to get your head down and eat meals and as a base to explore Folly Farm with your free entry and everything else Pembrokeshire has to offer.
The following features are included in the price:
Fairground-themed soft furnishings
Kitchen area with sink, oven, hob and fridge
Bench dining and lounge area
Family shower room
WiFi, smart TV
Cotton bed linen and plenty of fluffy towels are supplied
Welcome pack including fresh Welsh milk, bread and butter
Parking by your wagon
Unlimited entry to Folly Farm for the duration of your stay
Take a virtual tour of our quirky Showman's Wagons!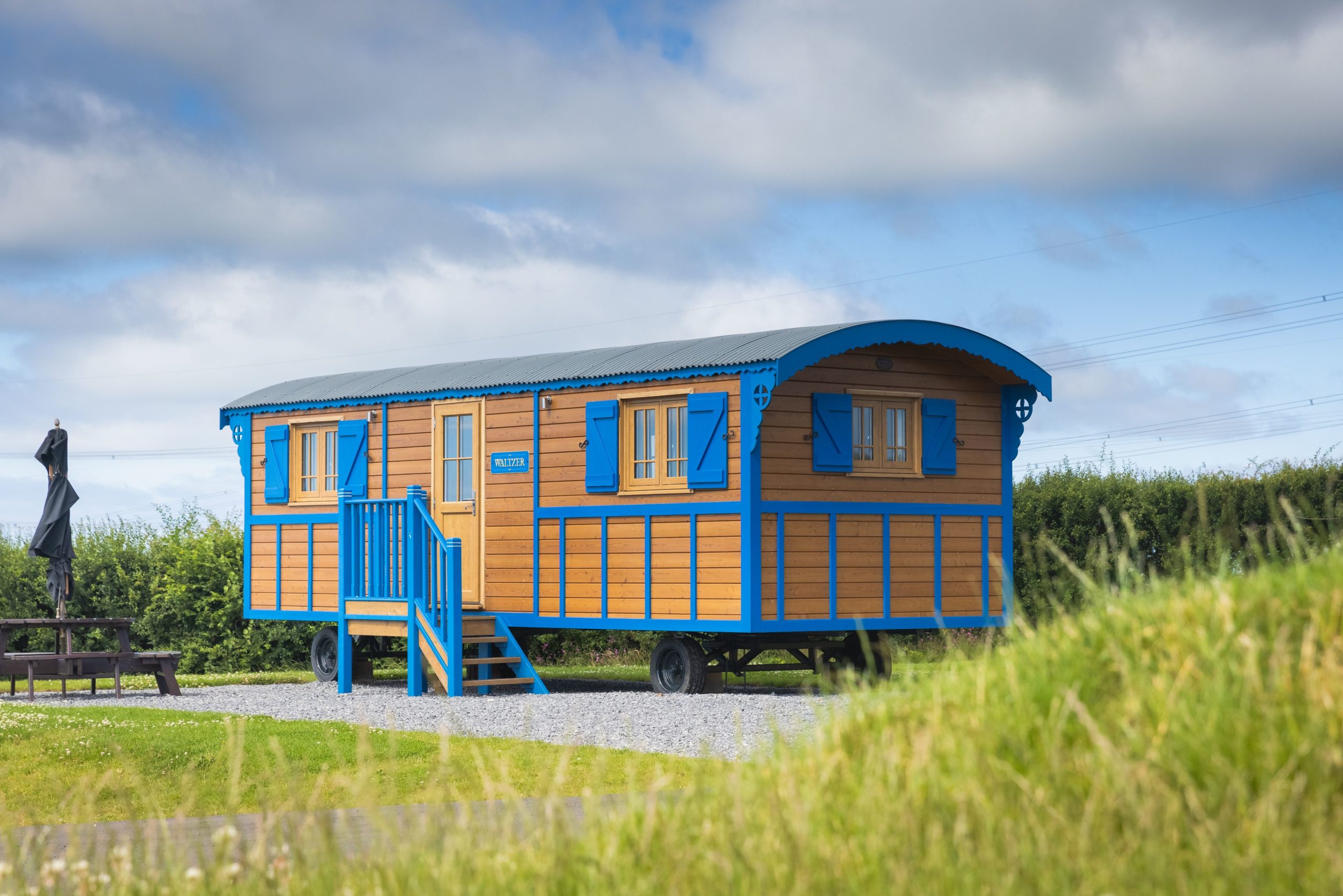 Useful booking information – Q&A
Q: When can I book to stay from?
A: You can book through our booking partner, Hoseasons.
Q: When can I arrive?
A: Check-in days are Mondays and Fridays. Check-in time is 4pm and we please ask that you check out of your wagon by 10am on the day of departure. We have a late checkout charge of £50 so please do make sure you vacate your lodge on time to allow our cleaners in to prepare the lodge for our next guests. We're sorry, we do not allow early check-ins but with free access to our attraction on your arrival day this isn't a problem as you can use the toilets, say hi to our animals and grab a coffee whilst you wait. Just park up in our attraction car park and our admission staff can you look up on our booking system to give you access to the attraction, just tell them you're staying with us and give your name. Then when 4pm rolls around you can drive up to our arrivals building and check in!
Q: Is there a minimum stay?
A: Yes. There's a minimum stay of two nights in our Showman's Wagons. Our wagons can be booked from Friday to Sunday (two nights, with the added benefit of a late checkout on the Sunday!), Friday to Monday (three nights), Monday to Friday (four nights) or Friday to Friday (seven nights).
Q: How much is it to stay in the Showman's Wagons?
A: Prices vary from week to week so it's best to check prices on our booking partner's site.
Q: Is entry to Folly Farm included in the price?
A: It sure is! So you can visit as many times as you like for the duration of your stay including your arrival and departure days. Come all day or just pop in for a couple of hours, the choice is yours. We're closed for midweek breaks in November through to February half term, so please check the attraction opening times if visiting Folly Farm is an important part of your visit.
Q: How many people do Showman's Wagons sleep?
A: We advise a maximum of two adults and two small children. Whilst bigger than a Shepherd's Hut, they're cosy camping so we wouldn't recommend them for children over the age of about ten. If you need something larger then perhaps consider our luxury lodges or our Twiga Tents if it's luxury camping you're after.
Q: Can I bring my dog?
A: We're sorry, but we do not allow dogs in our Showman's Wagons. We do have a dedicated pet friendly lodge though! It's available to book now for stays from 10 November 2023.
Q: Can I bring my bike?
A: Sure thing. We're bike friendly. We just ask you to respect your holiday neighbours and supervise your children when they're cycling.
Q: Are your Showman's Wagons wheelchair friendly?
A: We're sorry but our Showman's Wagons aren't accessible for wheelchair users. However, we do offer lodge accommodation with access features.
Q: Can I park near my accommodation?
A: Yes you can! There's no need to hire a buggy (or tire out little legs every time you wish to go out) on our holiday park as we've provided parking spaces by your accommodation. Some types of accommodation will even accommodate more than one vehicle but if you need more space then you can always park additional vehicles in our attraction car park which is a short walk away.
Q: Do you have EV charging points?
A: Yes, we have 12 EV charging points located in our carpark on the left-hand side before you enter our Holiday Park. These charting points are to be used through the Pod Point app, and cost 45p per kwh. We ask all users respect EV charging etiquette when using these charging points.
Important information
For the enjoyment and safety of all of our visitors we ask you to read our terms and conditions.
Showman's Wagons reviews
"We really enjoyed our break! The wagon was clean and comfy, perfect for the 4 of us for a few days. An added bonus is the entry to folly farm included in the stay - we used this every day and it was great for our children."
Jessica Clarke, stayed in Waltzer, 28 July 2023
"Very much enjoyed our stay. Wagon was stunning, very clean and on arrival the welcome pack was a lovely touch. The site was very clean and kept tidy. The free entry for the duration of our stay to folly farm was nice gesture. All in all we had a lovely stay."
Chris Hunt, stayed in, Waltzer, 21 July 2023
"Where to start, what an amazing week we had with you and it wasn't just the weather. All of your staff are so friendly and everywhere was so clean. Everything was thought of from layout of van, free games room, welcome pack, on-site facilities with park. Our girls loved it thank you would recommend."
Victoria Graham, stayed in, Waltzer, 16 June 2023
"We stayed for the weekend with our 8 and 13 year old children. Whilst the bunk bed was probably a bit small for a 13 y/o there was no real issue as it was only a few nights. The wagon was immaculate and the little extras were perfect. Having access to the park was fantastic. We absolutely loved it!"
Rachel Turner-Johnson, 15 May 2023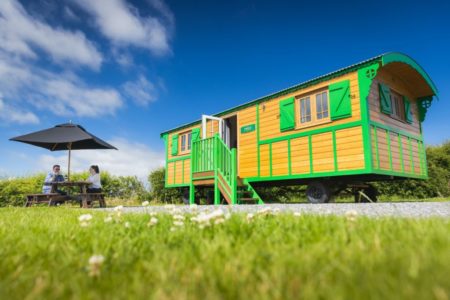 "Fantastic weekend, location great close distance to park."
Carly Eaton, stayed in Carousel, 21 May 2023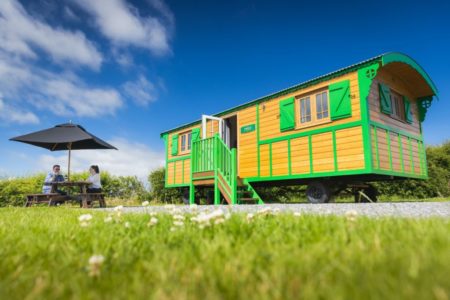 "What a lovely short break we had. The speedway wagon was very modern and cosy. It had everything we needed for a very comfortable stay. Our 4 & 7 year old loved it. We had the extra bonus of free entry to the farm park and a few treats in the wagon too. We will definitely be back. Diolch!"
Vikki Breese, stayed in Speedway, 19 March 2023
"Beautiful accommodation, excellent value for money with entry to Folly Farm included in the price. Park on site and lovely areas for the children to run around and play outside. We stayed in March so it was a bit cold, we will definitely return during the warmer months."
Georgia Jones, stayed in Speedway, 06 March 2023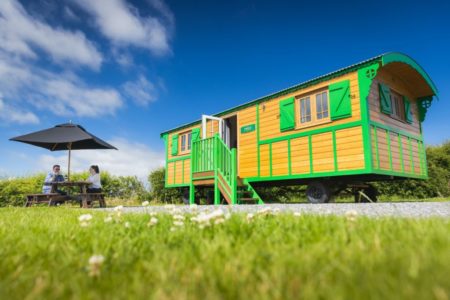 "We have had the most amazing time staying here at Folly Farm Holiday Park, going into Folly Farm park itself and meeting Santa and visiting towns and beaches near by. The staff have been absolutely amazing, nothing to hard and very polite, a right credit to the place. Highly recommended."
Victoria Jones, stayed in Twist, 16 December 2022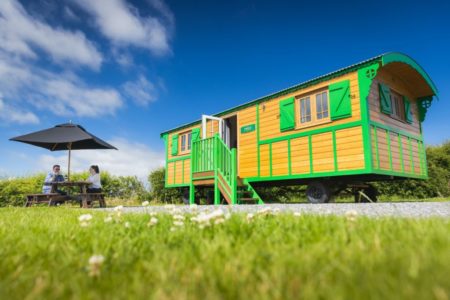 "Thoroughly enjoyed our stay as a family. Lovely to be onsite so you could spend the day in Folly Farm and then come back and relax. The wagon was just the right size for a small family. The welcome pack was a nice touch. Emma was great, making sure everything was just right for us. We will be back."
Erica Lamond, stayed in Speedway, 04 December 2022
"Excellent facilities - will definitely recommend to my friends and family. Staff very welcoming and helpful."
Alison Thomas, stayed in Twist, 27 November 2022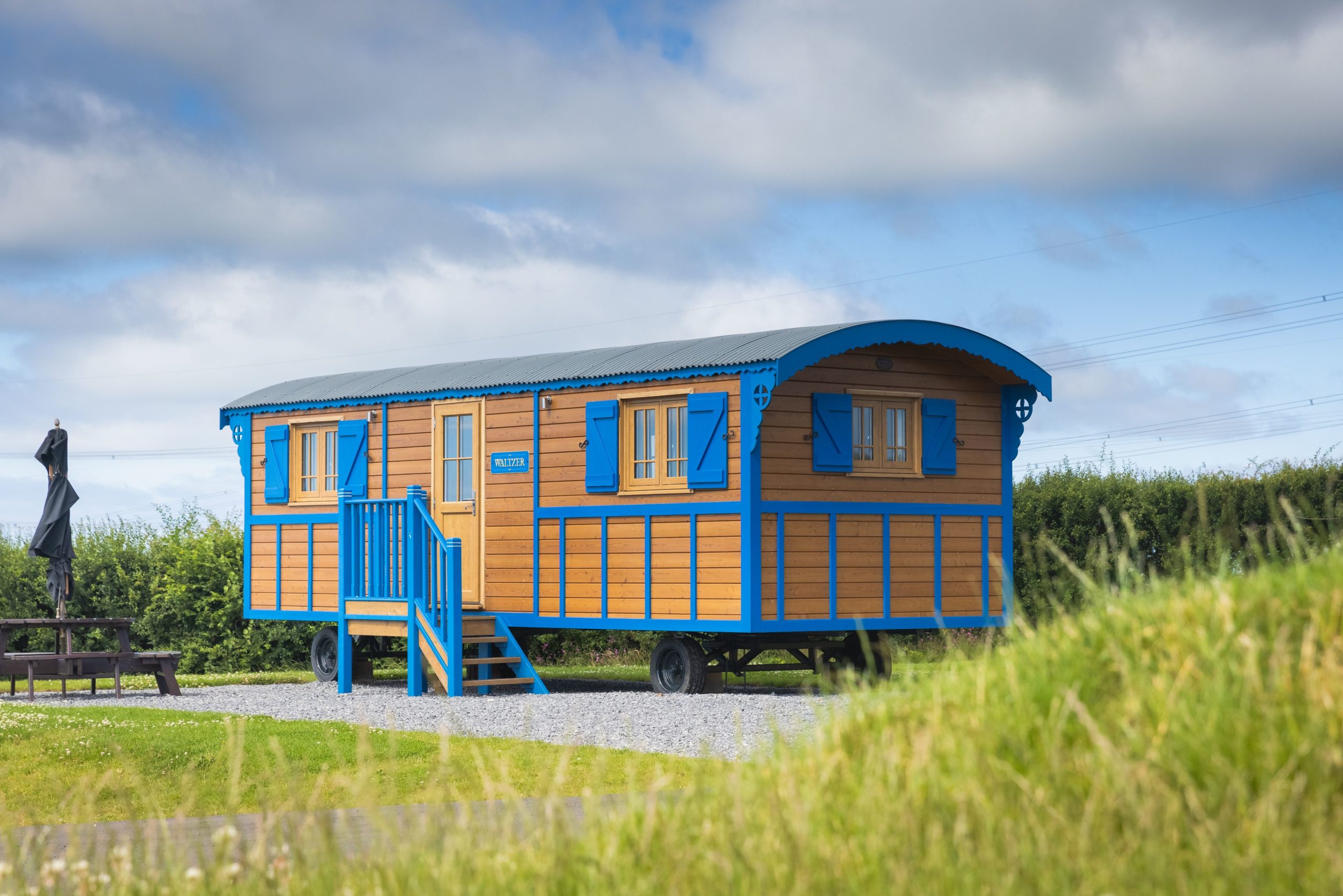 "Fantastic stay with two young children. They absolutely loved the unique stay. Showman's Wagons are super cosy and ideal for young families! Highly recommended."
Katherine Thomas, stayed in Twist, 20 November 2022
"Absolutely amazing place, exceeded our expectations. We both wish we could have stayed longer than we did as one full day at the Farm just wasn't enough to see all the animals more than once. It's a lovely place and well equipped wagon. Would definitely come back sooner if I didn't live so far away."
Alex Young, stayed in Waltzer, 13 November 2022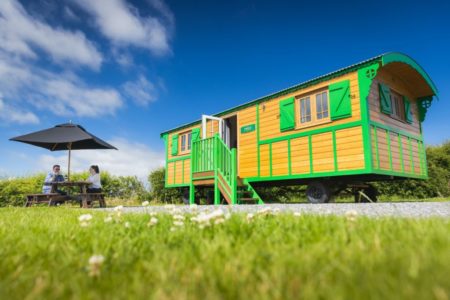 "We had the best time staying in a Showman's Wagon for 3 nights. The place was spotless and all of the furnishings were lovely. My children (6 + 3) loved the bunk beds. We've always been huge fans of Folly Farm so being able to wander in and out at our leisure was brilliant!"
Andrea Davies, stayed in Twist, 14 November 2022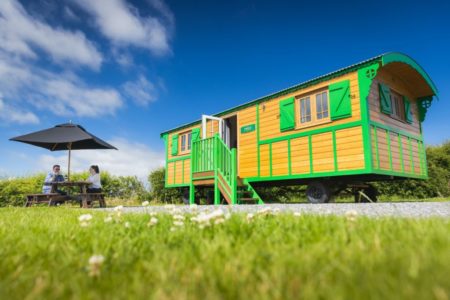 "Beautiful immaculate wagons. We stayed in 'Waltzer'. Beautiful place, very clean. Folly Farm was amazing, my boys loved it. We will definitely be back soon. Thank you for a wonderful stay."
Rachel Powell, stayed in Waltzer, 14 September 2022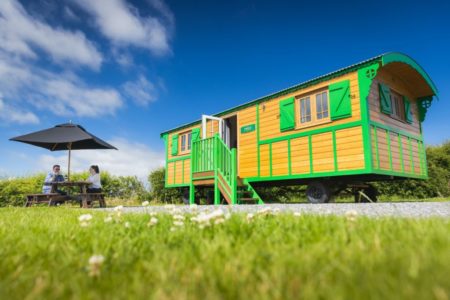 "Had a lovey stay, the Showmans Wagons are great for a family of four and the staff were friendly and welcoming. Everything was clean and the welcome pack was a nice surprise. We will very likely return with the kids as Folly Farm keeps them occupied all day." -
John Nicholson, stayed in Waltzer , 01 August 2022
"Was great, clean, comfortable. Lovely welcome pack. We're staying in the luxury lodge next year can't wait. Great field for boys to play football on, also a park. The grounds where spotless. Staff very helpful and kind. Two mins walk into Folly Farm."
Jennine Thomas, stayed in Twist, 03 August 2022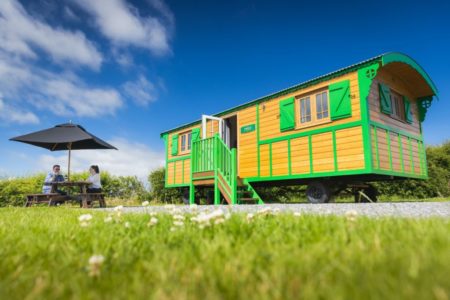 "Amazing stay in the Showman's Wagon, highly recommend."
Charlene Hollingworth, Bradford, 15 April 2022
"Simply fantastic family weekend away at Folly Farm. The Showman's Wagons are small but perfectly formed. Warm, clean and cosy with comfortable beds and modern facilities."
Kathryn Lewis, Tonteg, 27 March 2022
"The Showman's Wagon is beautifully presented and such a quaint and unique idea. The staff were very friendly, warm and welcoming and the site is very quiet and spacious. We had a fantastic stay and would highly recommend."
Suzanne Perkins, Bridgend, 27 March 2022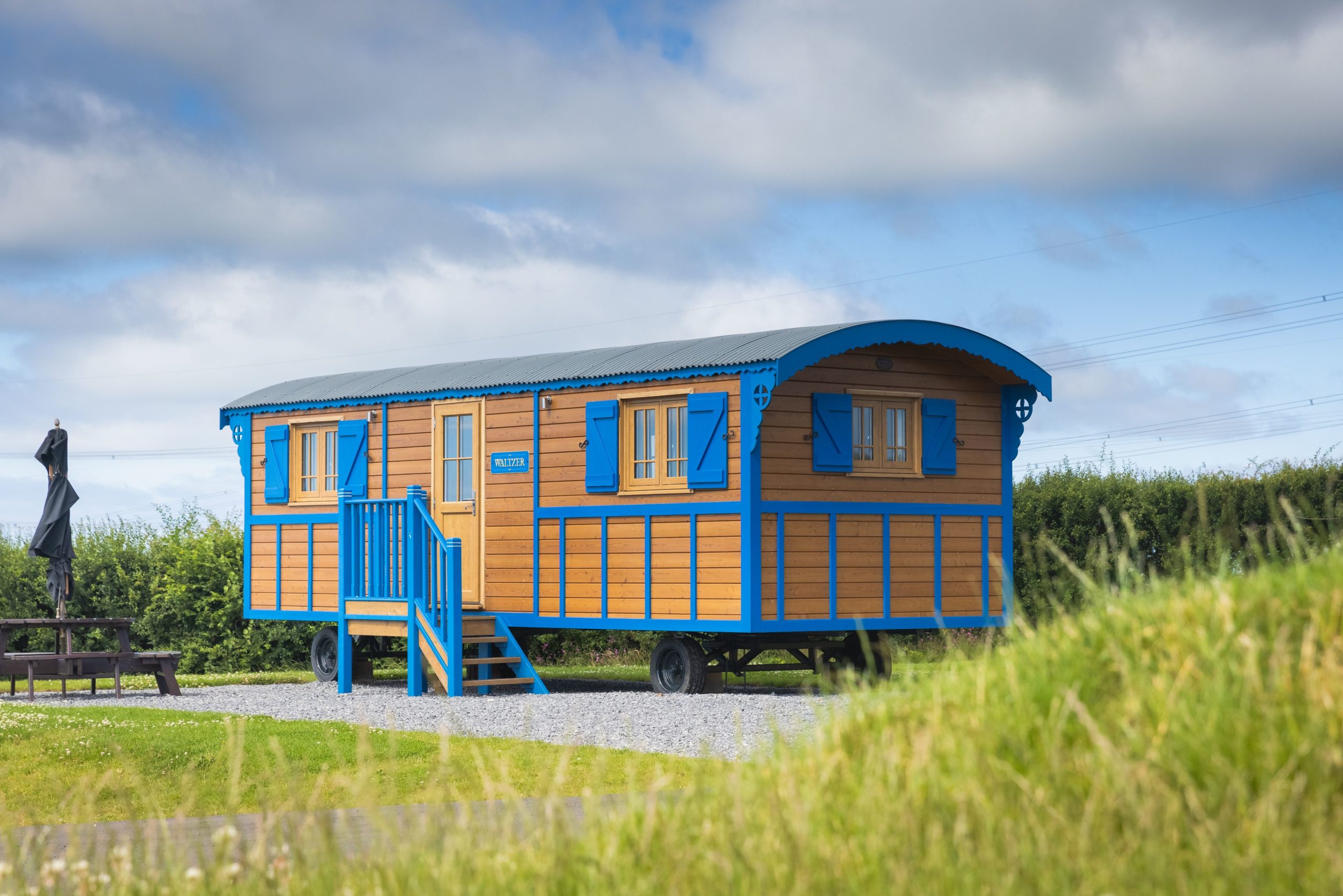 "Excellent stay at Folly Farm. Wagon was amazing. Will highly recommend to friends and family. Unlimited entrance to Folly Farm was welcomed by all of us. We all had a fantastic time."
Jackie Jones, Bridgend, 27 March 2022
"Absolutely amazing. So quirky and everything inside was new and modern. We were even given a welcome hamper which was lovely. We have already recommended to friends. I think this is also the first holiday we have been on where WiFi was included too."
Liam Spring, Norwich, 27 March 2022
"Beautifully presented small and compact but equipped with everything you would need. Lovely welcome pack on arrival. Lewis the warden is very friendly and informative. Great value for money, fabulous family weekend break."
Rachael Williams, Cardiff, 27 March 2022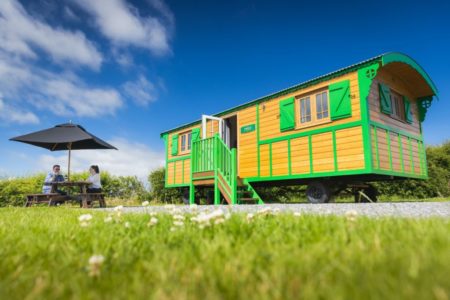 "Lovely here. Still enjoying our stay. Staff are brilliant. Even met my request of balloons and a birthday card for my twin granddaughters who are five. Card was signed by all staff, so massive thankyou to them all. Our wagon is clean warm and comfortable and thankyou for the waffles and bread. Thankyou."
Mandy Howells, Nantyglo, 27 March 2022
"Comfortable, well equipped, sturdy and well insulated wagons. We'll be back - but next time we'll book one of the brand new even more luxurious lodges so we can hot tub under the stars. They look incredible!"
Simon Fisher, Cardiff, 27 March 2022
"Really enjoyed our stay in this clean and well equipped wagon. Having the zoo on site is a real treat especially when you can hear the lions in the mornings."
Paul Cotterill, Stoke-on-Trent, 11 March 2022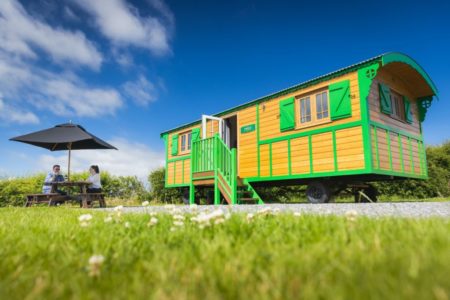 "We had a wonderful last minute stay in a Showman's Wagon back in November. The wagon was beautiful inside and out. Plenty of character. A wonderful surprise to be left with a supply of local goods/essentials. Convenient for entry into Folly Farm and able to hear the lions roar at night and see the rhinos."
Kerri Carben, Caerphilly, 07 November 2021
"We loved our stay in the Showman's Wagon and have booked again for May. Brilliant value as includes unlimited access to Folly Farm which is a short stroll away. The wagon was furnished to a very high standard and spotless. They are quite snug, fine for two adults and two little ones. Excited to return."
Tracy Lewis, Cardiff, 28 March 2021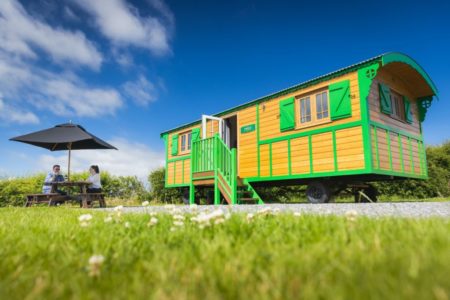 "Excellent stay in the Showman's Wagon. Site is very well maintained . The caravan has everything you need. Everyone very friendly."
David Gattenberg, Cardiff, 25 February 2022
"We spent a lovely week in August in 'Carousel'. It was lovely to eat outside on the bench and the kids loved the bunk beds, the lowest being enclosed enough for our 1year old to sleep safely. We could see the rhino from the steps and hear the lions roar! Friendly wardens on site."
Jenny Setherton, Bideford, 01 August 2021