Bring all the fairground feels to your next family holiday with vintage styling and views of our big wheel from your balcony!
Our fairground-themed three bedroomed lodge sleeps up to six people. An open plan living area with vaulted ceilings creates an inviting, airy space whilst floor to ceiling, cathedral style, windows provide plenty of light. A fully-equipped country-style kitchen with shaker style units and an island breakfast bar and dining table with six chairs completes the communal space. There's a master bedroom with a king size bed and en-suite shower room and two bedrooms with single beds for the little ones or even the grandparents! This lodge also has its own private decked area with a hot tub and casual seating area (sorry, no outdoor seating during the Winter months), perfect for relaxing after a busy day exploring Folly Farm or visiting Pembrokeshire's spectacular beaches and countryside.
All the fun of the fair
Yes, of course we've sprinkled a bit of Folly Farm magic on these lodges! From the hook a duck game in the bathroom, to the popcorn maker in the kitchen! A big wheel planter sits alongside our Carousel letters and vintage fairground artwork hangs on the walls.
Our fun and quirky Showman's Wagons complete this accommodation area bringing you all the fairground feels!
Take a virtual tour of our three bedroom Fairground Lodge!
Our two bedroom lodge with some access features
We also have a two bedroom lodge with some access features suitable for some wheelchair users and guests with reduced mobility. This lodge offers a large en-suite shower/wet room with toilet handrails and a handy shower stool in the master bedroom, as well as a tarmac parking area, ramp entry, low-thresholds and a more open living space compared to our three-bedroom lodges.
Please note this lodge does not meet all accessibility needs such as low counters, electric profile beds or hoists for the bed/bathroom/hot tub (which is sunken into the decked area). All our lodges are standard layout products, bought-in fully-furnished and we've adapted what we can to provide a level of wheelchair access into this lodge and an easy to access en-suite bathroom. We'd rather be honest about that upfront to make sure your holiday with us meets your expectations. Please feel free to contact our reservations team if you'd like to check if this accommodation meets your specific needs or maybe consider alternative accommodation more suited to your particular requirements.
Pet friendly lodge
We've made one of our Fairground Lodges pet friendly. You can book now with our partner Hoseasons.
Q: How do I book your lodges?
A: Booking is through Hoseasons, our selected partner. Hoseasons has a wealth of experience in pricing and marketing lodge accommodation across the UK. We're part of the Evermore Lodge Holiday Collection.
Q: When can I arrive?
A: Check-in days are Mondays and Fridays. Check-in time is 4pm and we please ask that you check out of your lodge by 10am on the day of departure. We have a late checkout charge of £50 so please do make sure you vacate your lodge on time to allow our cleaners in to prepare the lodge for our next guests. We're sorry, we do not allow early check-ins but with free access to our attraction on your arrival day this isn't a problem as you can use the toilets, say hi to our animals and grab a coffee whilst you wait. Just park up in our attraction car park and our admission staff can you look up on our booking system to give you access to the attraction, just tell them you're staying with us and give your name. Then when 4pm rolls around you can drive up to our arrivals building and check in!
Q: Is there a minimum stay?
A: Yes. There's a minimum stay of two nights in our luxury lodges. Our lodges can be booked from Friday to Sunday (two nights with the added benefit of a late checkout on Sunday!), Friday to Monday (three nights), Monday to Friday (four nights) or Monday to Monday or Friday to Friday (seven nights).
Q: Do all your lodges have hot tubs?
A: All our luxury lodges have a private hot tub sunk into the decked outdoor space, with a frosted glass balcony. They're suitable for guests over the age of 8 and children must be supervised at all times. We provide one set of white bathroom towels for your lodge for use for the week so you might want to bring beach/swim towels for use with the hot tub. All our lodges have washing machines and a clothes drier and our laundry in the facilities building has a charged for tumbled drier. Our hot tubs are open all year round but we may take away the outdoor furniture during the colder months/at windy times.
Q: Can I bring my dog?
A: Most of our luxury lodges are pet free but we do have a dedicated pet friendly lodge.
Q: Can I bring my bike?
A: Sure thing we're bike friendly!
Q: Are your lodges suitable for disabled visitors?
A: We have a two bedroom lodge with access features suitable for some wheelchair users or guests with reduced mobility. It won't meet everyone's specific needs so please click on the link to read more and see photos.
Q: How close are the lodges to Folly Farm?
A: They're just a car park away! Our lodges are located on our Holiday Park which is accessed through our main attraction car park. It's a ten minute walk to our attraction entrance with little legs in tow!
Q: Can I park near my accommodation?
A: Yes you can! There's no need to hire a buggy (or tire out little legs every time you wish to go out) on our holiday park as we've provided parking spaces by your accommodation. Some types of accommodation will even accommodate more than one vehicle but if you need more space then you can always park additional vehicles in our attraction car park which is a short walk away.
Q: Is entry to Folly Farm included?
A: Of course! When you stay in our luxury lodges unlimited entry to our attraction is included as an extra for all guests. This includes your arrival and departure days. We're closed for midweek breaks in November through to February half term, so please check the attraction opening times if visiting Folly Farm is an important part of your visit.
Q: Do you accept group bookings?
A: Our holiday park is designed with families in mind. We're sorry but we do not accept group bookings from hen and stag parties, nor do we accept single sex bookings or large group bookings for family celebrations.
Q: Do you have EV charging points?
A: Yes, we have 12 EV charging points located in our carpark on the left-hand side before you enter our Holiday Park. These charting points are to be used through the Pod Point app, and cost 45p per kwh. We ask all users respect EV charging etiquette when using these charging points.
Fairground Lodge reviews
"Stunning lodges and well kitted out. The complimentary items were a real treat and a special touch. Will definitely recommend a stay at Folly Farm."
Paul Ashurst, Cheshire, 11 September 2023
"Stayed with my family, 2 adults and 2 children. We had a fantastic time, the lodge was beautiful and the games basket was a big hit. The popcorn machine is a cool feature and the hot tub had the big thumbs up from my 4 year old! Highly recommend. Already booked for next year. No faults at all!"
Kodie O'Riley, Bridgend, 26 May 2023
"Amazing lodge spotlessly clean had 6 big flies went to get fly spray asked a member of staff if they sell it she was very concerned and came down with fly spray very apologetic. Hot tub and decking amazing big field for the boys to football in lovely park free admission into Folly Farm."
Jennine Thomas, Swansea, 10 April 2023
"What an amazing place to stay ..the Lodges are amazing. The park is the cleanest I have ever seen and the touring pitches are 10/10. All of the staff are such lovely people and a credit to the holiday park! The Zoo, indoor play areas and Vintage funfair are great. We will be back, well done."
Michelle and Shaun Purchase, Somerset, 04 April 2023
"This is one of the best family holidays we have ever had, the lodges are so beautifully designed and with so many thoughtful touches like a little selection of basics left as well as a highchair provided. Having the Folly Farm tickets included in the price is brilliant so you can really enjoy it."
Samantha Hardcastle, Solihull, 26 March 2023
"Wow! A wonderful long weekend stay with our 9 & 6 yr olds. Lodge was immaculately clean, high spec & the little touches in keeping with the fairground theme were really well thought out, making it extra special. Lots of fun had on the farm too. The only bad thing we can say is it wasn't long enough!"
Cara Zachariou, Sutton Coldfield, 20 February 2023
"Fantastic accommodation - spotlessly clean and so well kitted out with everything you need. Welcome hamper provided was just such a lovely touch. The staff are wonderful - always polite and always happy!"
Amy L, Devon, 17 February 2023
"Absolutely stunning Lodge, haven't been so relaxed in a while, the hot tub was a big bonus so you can chill in the evenings, can't wait for my next visit."
Sam Lane, Brecon, 10 March 2023
"We had a fabulous lodge for our weekend stay. It was warm and comfortable and In between the showers we bathed in the luxuriously warm hot tub. The free tickets to visit the farm and the zoo was much appreciated. We loved here so much that we've already booked our next stay. Don't delay book today."
Jane Williams, Pembrokeshire, 13 March 2023
"Perfect from start to end. Daughter's 30th and what a fabulous weekend break. Everything was more than perfect and we will be back and I will be telling everyone what a great weekend it was. Weather in Wales in January never good but so much to do in the park. Hot tub was lovely."
Sian Williams, Nelson, 09 January 2023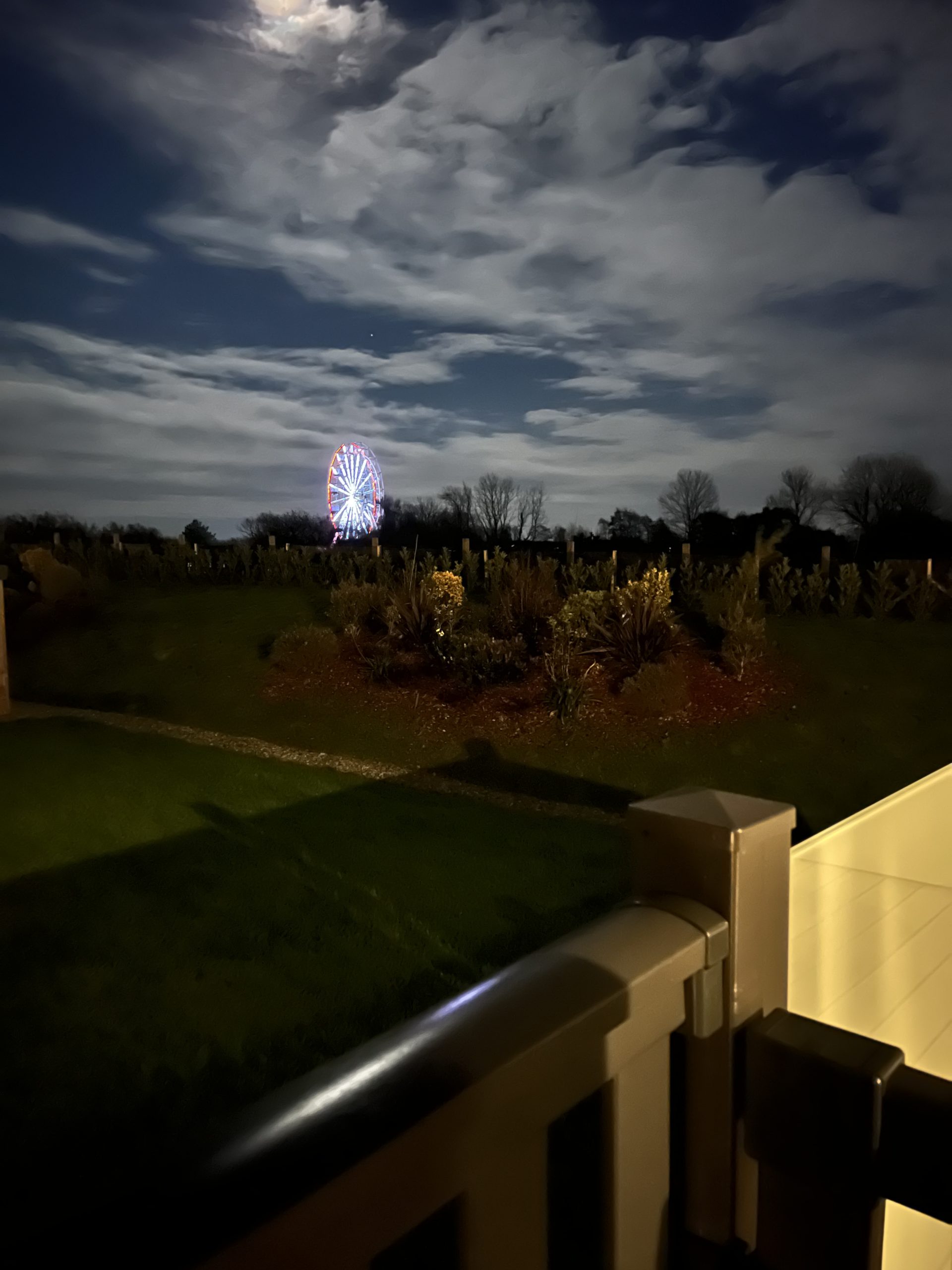 "We absolutely loved everything about our lodge! All the little touches from hook-a-ducks in the bath to a popcorn machine, it has been absolutely amazing. It's so clean and well thought out with all the fairground themed ornaments. We will definitely be back! Thank you so much."
Rachel Pitman, Bridgend, 04 November 2022
"The lodge (no.5) is beautiful and very clean. Someone checks the hot tub everyday and our bins were emptied half way through the week. The hot tub was the perfect temperature and very private. The lodge has everything you need. We will definitely be returning."
Hayley Garrett, Cardiff, 04 November 2022
"We have really enjoyed our stay. The lodge facilities are excellent. Enjoyed the hot tub, popcorn maker, etc. Staff very helpful. Bill sorted out WiFi quickly. Hot tub maintenance very polite and only required a short visit. We visited the zoo twice."
Jane Klages, Oswestry, 15 October 2022
"Wow, where do we start? Stayed in lodge 4 with hot tub. Absolutely outstanding lodge, beautiful kitchen with a popcorn maker my children loved; popcorn provided. Open living and beautiful bedrooms and very well presented. Also we were provided with Welsh goodies - milk, cheese, coffee, butter and bread."
Rachel Roberts, Caerphilly, 04 October 2022
"Absolutely stunning lodge, high end finish. Extra touches were brilliant e.g Welsh tea, coffee, butter, milk bread and conserve in lodge on arrival. The facilities were excellent including, washing machine even a hook a duck game for the bath. Safety features in cabin for young kids. I could go on…"
Trudy Smith, Llanelli, 11 October 2022
"Thank you for a great stay. The welcome pack was a lovely idea. The lodge was very clean and homely, with everything you would need! We asked for another travel cot as the one we had was broken and it came straight away so service was great!"
Bethany Haddon, Warwickshire, 03 October 2022
"Lovely stay."
Bethan Hughes, Swansea, 01 October 2022
"What a amazing place. Luxury from the minute you walked in the door. What a delicious welcome hamper, everything was local. Bedrooms really spacious. Two bathrooms. Kitchen/living room lots of special touches - we loved the games in the basket. Kitchen was well stocked."
Janette Thorne, Swansea, 17 September 2022
"Nice and clean with a nice view."
Owain Evans, Ammanford, 10 September 2022
"Perfect weekend away. The lodges are amazing, fully equipped, spacious. So lovely to be able to pop in and out of Folly Farm as and when we wanted. Definitely recommend paying a visit."
Zoe Thomas, Neath, 10 April 2022
"A home away from home. Comfortable, well put together and great fixtures and fittings. Great with kids to have access to Folly Farm itself."
Ade Rose, Birmingham, 06 September 2022
"Our stay at the lodges was lovely. The accommodation was modern and very clean. Welcome hamper was nice. The hot tub was great and the furniture on decking was nice. Would book again and recommend to family and friends."
Karen Lewis, Pontypridd, 03 September 2022
"Fantastic and Welsh hamper was a beautiful touch."
Mandy Morgan, Ebbw Vale, 06 September 2022
"Had a weeks stay here at Folly Farm. Absolutely amazing holiday from start to finish. The lodge exceeded our expectations and had everything you could possibly think of. The welcome tray was outstanding. Hot tub was lovely. Unlimited entrance to the park is great as you can go everyday if you like."
Jan Baker, Borth, 31 August 2022
"Lovely lodge to stay in. We enjoyed the hot tub and the complimentary welcome pack of Welsh goodies was a very lovely touch. We made the most of our complimentary entry to Folly Farm for the week and our children enjoyed all the attractions. The location is excellent for exploring Pembrokeshire."
Emily Luke, Cardiff, 16 August 2022
"Fabulous stay in the lodges. Absolutely stunning accommodation. Really clean & comfortable. Lots of useful touches provided. Hot tub was just lovely. Comfy beds. Would highly recommend. Love this holiday park."
Kerri Carben, Caerphilly, 24 July 2022
"Highly recommend booking a holiday at Folly Farm. Our holiday at Folly Farm has to be our favourite holiday ever. The lodge was immaculate and extremely comfortable. All the staff are very helpful and friendly. The unlimited access to Folly Farm was so great as we could come and go as we please."
Rachel Harries, Neath, 09 August 2022
"The luxury lodge really wowed us with all the brand new fixtures and fittings (everything you might need) and welcome pack of Welsh and local produce. We enjoyed plenty of time in the hot tub despite the poor weather. The main attraction is a family favourite as always and entertained us throughout."
Gareth Owen, Llandeilo, 17 June 2022
"My friend and I were the first guests to stay in Fairground Lodge 1 along with our 4 year old boys. The lodge is super, kitchen very well equipped. Toy basket with games and puzzles. We loved hearing the lions roar in the evening from our decking. Hot tub was lovely. Staff so welcoming and friendly."
Samantha Massingham, East Grinstead, 24 May 2022