For the ultimate safari experience right here in Wales, sleep next door to our world-class zoo.
Our safari tents offer something that little bit different for your glamping holiday accommodation. Voted Pembrokeshire's Glamping Provider of the year, children will love staying in our giraffe-themed safari tents and they'll enjoy visiting our herd of giraffe with unlimited entry to our farm park and zoo included in your glamping stay. Parents will love cosy camping in our large, furnished tents with kitchen and dining area, living room and family shower room. No smoothing out your groundsheet or pitching your tent and no trekking to the toilet in the middle of the night. Just rock up, sit back and relax!
Safari style
Always wanted to go on safari? But don't fancy the long distance travel? Then we've got you covered. Our Twiga Tents bring a touch of safari style with the home comforts of luxury camping. With giraffe-themed interior decor and rustic safari styling throughout, you could be forgiven for thinking you're on the plains of Africa and not in the heart of rural Pembrokeshire! You may even spot our Eastern black rhino from your tent and you'll be able to visit some African animals, as well as some from every continent, at our world-class zoo – rated a top ten zoo in the world on TripAdvisor.
Wrap up! It's camping after all.
Our Twiga Tents are canvas structures to give you all the safari feels and we've gone that extra mile with insulated walls and ceilings but you'll still want to bring warm clothing for the evenings just as you would with standard camping. You'll be at one with nature with this glamping experience but we do provide some luxuries over standard camping such as all your bedding and towelling needs, en-suite bathroom and basic cooking facilities. We've also provided plenty of blankets for those chilly evenings!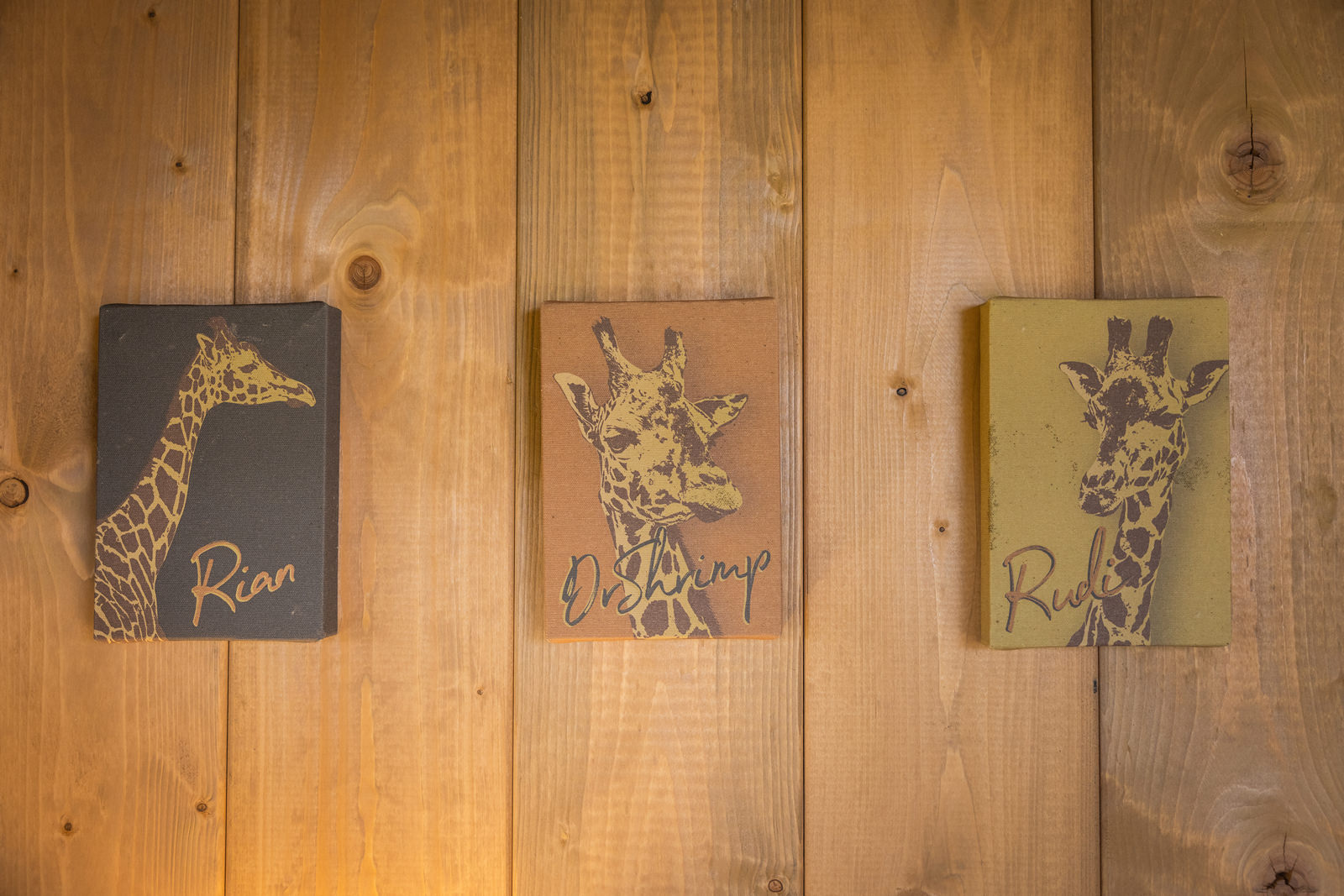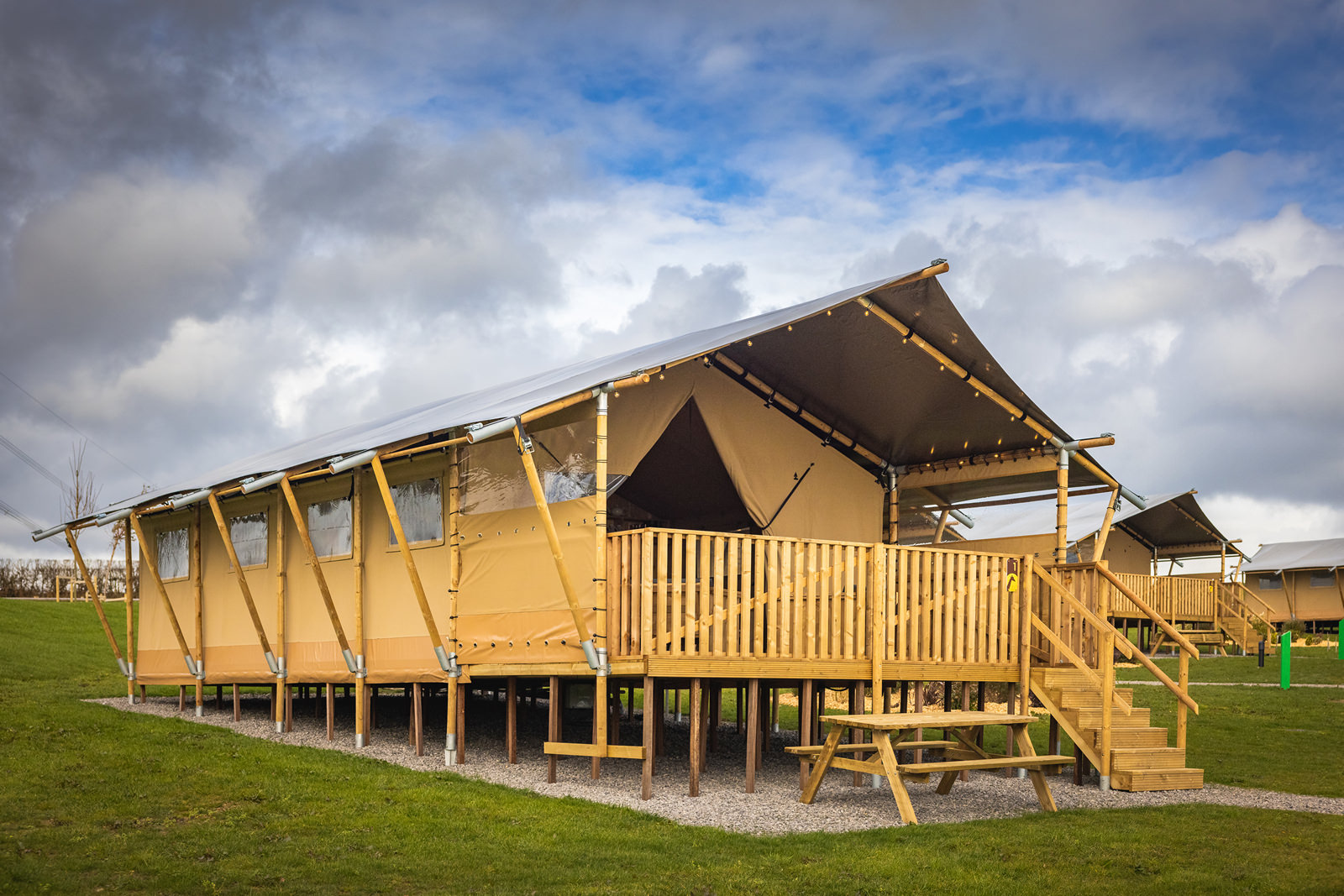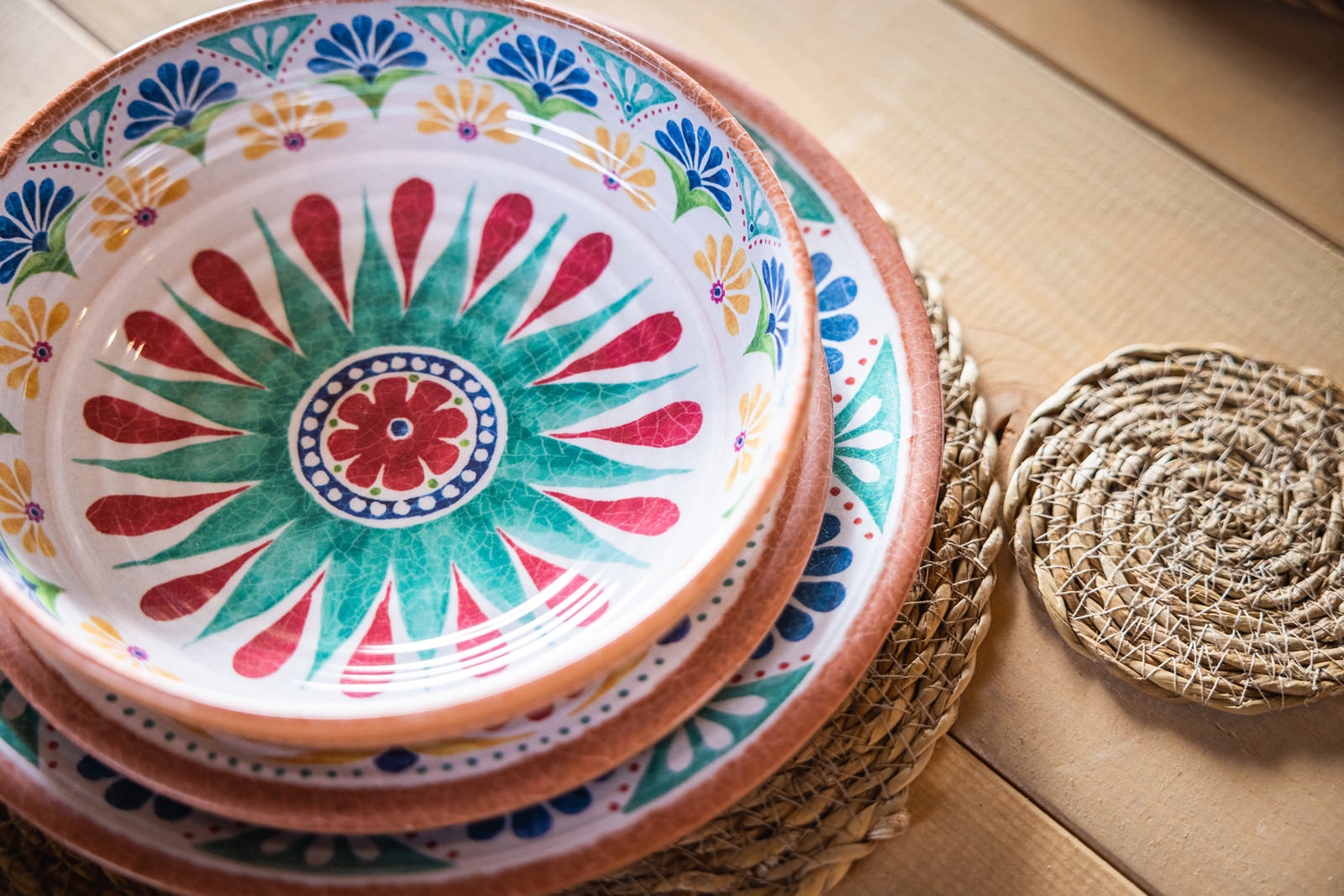 Take a virtual tour of our Twiga Tents
Quality Assured
Our Twiga Tents aren't just Visit Wales quality assured…they've also been awarded the Gold Award for Glamping!
Why Twiga?
Fun fact time…Twiga is Swahili for Giraffe. So, we've given our safari tents a giraffe-themed makeover to bring the magic of Africa to your next stay.
Useful information – Q&A
Q: When can I book to stay from?
A: Booking is now open for our safari tents. They can be rented from Easter 2024 until October half term 2024.
Q: When can I arrive?
A: Check-in days are Mondays and Fridays. Check-in time is 4pm and we please ask that you check out of your safari tent by 10am on the day of departure. We have a late checkout charge of £50 so please do make sure you vacate your lodge on time to allow our cleaners in to prepare the lodge for our next guests. We're sorry, we do not allow early check-ins but with free access to our attraction on your arrival day this isn't a problem as you can use the toilets, say hi to our animals and grab a coffee whilst you wait. Just park up in our attraction car park and our admission staff can you look up on our booking system to give you access to the attraction, just tell them you're staying with us and give your name. Then when 4pm rolls around you can drive up to our arrivals building and check in!
Q: Is there a minimum stay?
A: Yes. There's a minimum stay of two nights in our Twiga Tents. Our luxury tents can be booked from Friday to Sunday (two nights, with the added benefit of a late checkout on the Sunday!), Friday to Monday (three nights), Monday to Friday (four nights), Monday to Monday or Friday to Friday (seven nights).
Q: How much is it to stay in the Twiga Tents?
A: Prices vary from week to week so it's best to check prices on our booking partner's site.
Q: Are the safari tents warm?
A: Our Twiga Tents are just that – tents! They're not lodges, although we do have luxury lodges too if that's more your style. They're canvas structures over a wooden frame but we have gone that extra mile and insulated our safari tents and provided an electric stove heater. Please bring warm clothing for the evenings as you would for standard camping and enjoy this luxury camping experience where you don't have to worry about trekking to the toilet during the night or bringing your own bedding or towels. We do supply throws and blankets in the living room area for extra comfort for the chilly evenings.
Q: Can you lock the tents?
A: Just like with standard camping our safari tents have zip closings but we do provide a zip padlock. We provide a personal safe inside the tent for small valuables. Holiday park staff are on site during the day and we have night security too.
Q: Is entry to Folly Farm included in the price?
A: It sure is! So you can visit as many times as you like for the duration of your stay including your arrival and departure days. Come all day or just pop in for a couple of hours, the choice is yours. We're closed for midweek breaks in November through to February half term, so please check the attraction opening times if visiting Folly Farm is an important part of your visit.
Q: How many people do the safari tents sleep?
A: Our safari tents sleep six people – a double bed, two single beds and a two full-size single bunk beds.
Q: Can I bring my dog?
A: We're sorry, but we do not allow dogs in our Twiga Tents. We do have a dedicated pet friendly lodge though! It's available to book now for stays from 10 November 2023.
Q: Can I bring my bike?
A: Sure thing. We're bike friendly. We just ask you to respect your holiday neighbours and supervise your children when they're cycling.
Q: Are your Twiga Tents wheelchair friendly?
A: We're sorry but our Twiga Tents aren't accessible for wheelchair users. However, we do offer lodge accommodation with some access features.
Q: Can I park near my accommodation?
A: Yes you can! There's no need to hire a buggy on our holiday park as we've provided parking spaces by your accommodation. Some types of accommodation will even accommodate more than one vehicle but if you need more space then you can always park additional vehicles in our attraction car park which is a short walk away, just ask for a rear view mirror hanger so we know the car is yours!
Q: Do you accept group bookings?
A: Our holiday park is designed with families in mind. We're sorry but we do not accept group bookings from hen and stag parties, nor do we accept single sex bookings or large group bookings for family celebrations.
Q: Do you have EV charging points?
A: Yes, we have 12 EV charging points located in our carpark on the left-hand side before you enter our Holiday Park. These charting points are to be used through the Pod Point app, and cost 45p per kwh. We ask all users respect EV charging etiquette when using these charging points.
Important information
For the enjoyment and safety of all of our visitors we ask you to read our terms and conditions.
Twiga Tent reviews
"Love the Twiga Tents! You won't regret this amazing unique glamping experience."
Lara Bennett, , 18 August 2023
"We've just had the most amazing week staying here on the park, cozy and clean the tents don't even fell like tents. With heaters in every room and plenty of space and kitchen area the whole stay was perfect from start to finish. Staff were amazing and always super helpful. We're already coming back."
Shauna Edwards, Caerphilly, 21 July 2023
"We absolutely loved our stay, the tents are cosy, spotlessly clean and you don't even feel like your in a tent when inside, we will definitely be coming back! Unlimited access to Folly Farm throughout your stay, half price wristbands for the rides! Staff were amazing, heaters in every room, was warm."
Shelby Smith, Bridgend, 23 April 2023
"The tent was immaculate, and absolutely stunning. I was very impressed with space considering we're a family of four 2 little ones under 3 so only suggestion would be to have a gate at the top of the stairs. Love all the little touches too. We will definitely be back and be recommending to family!"
Bronwyn Turner, Worcester, 26 March 2023