Our farm manager Kim Brickell attended the event in Llandrindod Wells last night.
Nominated in the Farming Connect Animal Health and Welfare category at the Lantra Cymru Awards, our farm manager Kim Brickell was delighted to walk away with the trophy at the end of the night. Kim, a Folly Farmer for 13 years, has worked her way up through the ranks and is now one of two farm managers here at Folly Farm. Kim said:
Farming is in my blood and to be nominated (and awarded) in such a way as recognition of years of service within the sector is a true honour.
Kim's award category was open to individuals who have effectively applied learning gained through the Farming Connect animal health and welfare program at their place of work. Kim explains…
Through Folly Farm (as a business within the sector), I have access to Farming Connect resources and have been able to participate in numerous personal development opportunities over the years.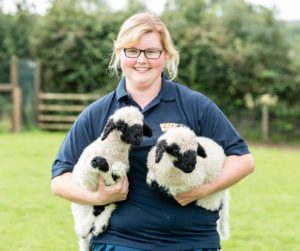 Kevin Thomas, Director of Lantra Wales, writing on their website says…
The Lantra Cymru Awards provide a platform to recognise and celebrate the outstanding contributions that individuals have made in the environmental and land-based sectors in Wales.
Kim thoroughly enjoyed the evening and shortly after receiving her award, said:
It was an amazing night. I consider it a real honour to have been nominated. Just to be in the room with so many other people who share my passion for the industry was an amazing experience. A massive well done to all those involved.
Congratulations Kim, we're proud of you!